Keenan Cornelius has been confirmed to be removed from the ADCC roster, according to an Instagram story post from ADCC figurehead Mo Jassim that was also shared by Cornelius.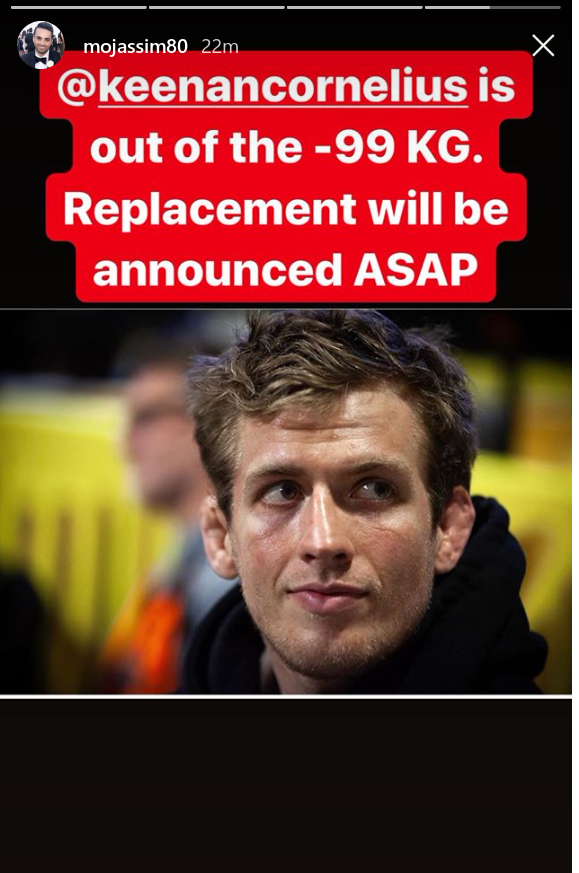 Cornelius has been battling an eye ailment called EKC, which is basically a highly contagious and aggressive form of pink eye. Despite the havoc the ailment has wreaked on his wellbeing (and now his jiu-jitsu career), Cornelius has kept his trademark sense of humor about the whole situation, joking about the situation in his social media posts. But just yesterday, when a fan asked him if he'd still be competing at ADCC, Cornelius replied that it was "not looking good."
At the time of this post's publication, a replacement has not yet been announced for the 99kg division.
The news follows the announcement yesterday that Joao Gabriel Rocha had withdrawn from the same competition due to a lower back injury. Rocha told the Jiu-Jitsu Times, "I tried to continue but yesterday I went to the doctor and it was identified that I had an acute lumbar contracture."
Renzo Gracie athletes Oliver Taza and Nick Rodriguez were also rumored to be pulling out of ADCC due to EKC, but both athletes have confirmed to the Jiu-Jitsu Times that their eyes are fine and they will be competing as scheduled.