Yes, yes, right now it's all a bunch of "maybes" and "perhapses," but after ADCC this year, isn't a Gordon Ryan vs. Lachlan Giles leg lock battle what we've all wanted?
This all started in the absolute bracket of ADCC 2019, when 77kg competitor Lachlan Giles submitted +99kg champ Kaynan Duarte and 99kg competitor Patrick Gaudio with heel hooks. Giles was then up to face Ryan, and although Ryan ultimately submitted Giles, the audience was collectively holding their breath when Giles appeared to secure a hold on Ryan's heel earlier on in the match (which Ryan later escaped).
As we all know by now, Giles went on to submit Mahamed Aly to win the bronze medal and the hearts of basically everyone in jiu-jitsu. Now that we've seen the Aussie tear through a bracket of giants, though, everyone's been wondering what else he could do with his extremely technical leg lock game. And it looks like he is, too.
A couple of days ago, Giles uploaded a post to social media breaking down what happened in his leg entanglement with Ryan and politely, but firmly asserting his opinion that at least for a few moments, he really had put Ryan in danger with his heel hook attempt.
Ryan soon appeared in the comment section, disagreements ensued, and it all culminated in James Partridge of Brothers Jiu-Jitsu suggesting that Ryan and Giles settle the "who's the better leg locker" debate with a leg-lock-only battle of their own. Ryan agreed and offered to put up $500k of his own money if Giles would put up $5,000, and Giles agreed.
Ryan wanted to make it clear that he's serious about the idea, and Giles confirmed that he is, too.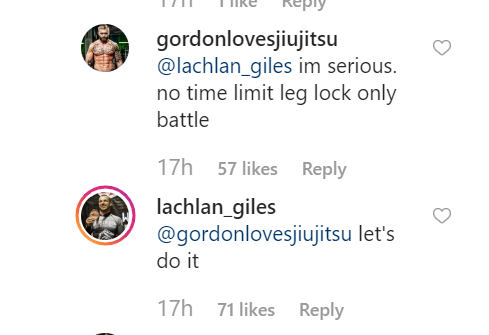 This matchup is, for now, completely hypothetical, and no promotion has jumped at the chance to host the ultimate leg lock battle. But to have the Giant Slayer and literal expert on knee injuries face off against the division and absolute ADCC champ in a specialty match worth $505,000 would be a battle for the ages, regardless of the outcome. Beyond that, the unique ruleset would be a fun twist on typical jiu-jitsu matches, especially with the popularity and necessity of leg locks in sub-only competitions in recent years.
Who do you think would win this foot fight?