Before we begin, a bit of life advice: don't bet a bunch of money on sporting events if it means not being able to afford rent if you lose the bet.
Now that that's out of the way, here's a cool story that came out of the frustrating main event at UFC 244, in which the "BMF" fight between Nate Diaz and Jorge Masvidal was cut short due to a controversial doctor stoppage. Instagram user @unknownkillers213, who claims to be a "broke college kid" from USC, had apparently bet a significant amount of money on Diaz defeating Masvidal. When the result left Diaz on the losing end, the fan also lost out, and it apparently left them in a bad spot.
On one of Diaz's recent posts, the fan commented and claimed that their lost bet had left them unable to pay rent and living out of their car. In a surprise move, Diaz responded to the fan, saying "Don't trip I got ur ******ss."
The fan then shared messages from Diaz that showed that the fighter did indeed send money to make up for the lost bet.
"Update for everyone asking me, Yes Nate actually helped me out Nate is the true OG BMF he sent me more money than what I lost on my bet and I'm using it to buy from his cbd company "Game Up" Nate is a really cool guy when I made that post I didn't think twice about it I didn't even think he would see it and I even let him know that I wasn't really sleeping in my car it was more of a joke but it was awesome the way he responded and the fact that he refunded me and gave me some extra cash just goes to show he is a man of the people !!! "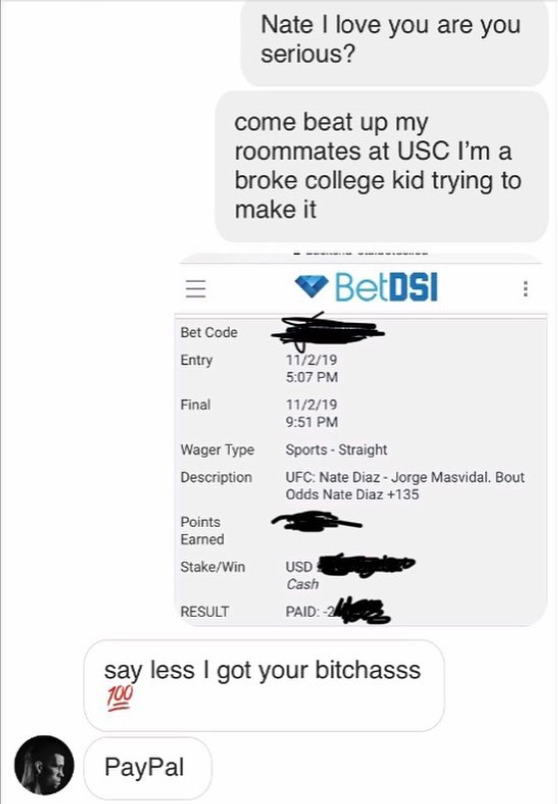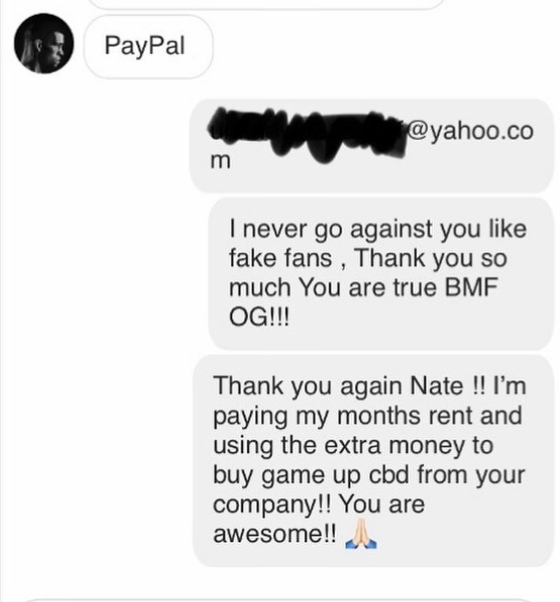 The amount of money bet and paid wasn't disclosed, but it looks like it was plenty enough for this fan to get out of their car and back on their feet.