Brittney Elkin does whatever is necessary to get the job done.
The brown belt jiu-jitsu athlete and now-retired MMA fighter has undergone a few significant life changes since she famously cut off her hair to make weight for a Bellator fight almost three years ago. But although she's stepped away from MMA after her last fight in which she suffered a broken arm, she's still working hard on the mats. Tonight, she'll be putting that work to the test against Bailey Luttrell at Fight 2 Win 145.
Although she was a dedicated MMA fighter, Elkin has been enjoying her time away from the cage following her devastating injury. "It took a while to be back into full training (doing takedowns from the feet and all), but I don't even notice these days anymore. I strictly just train BJJ now, and it's been bliss, actually," she told the Jiu-Jitsu Times.
Like the rest of the jiu-jitsu community, Elkin was affected by the coronavirus shutdowns, not only in her training, but at work as well. Suddenly unable to work at her bartending job or as a member of the F2W crew, she took up a job as an HVAC apprentice the day her home state of Colorado was hit by the closures. "I found a labor spot first, and they ended up promoting me to apprentice in about a month," she said. It's a physically demanding job, but if anyone's cut out for it, it's Elkin. "It's definitely hard work and has made me feel proud. It also got me back in shape, dragging metal up and down stairs all day."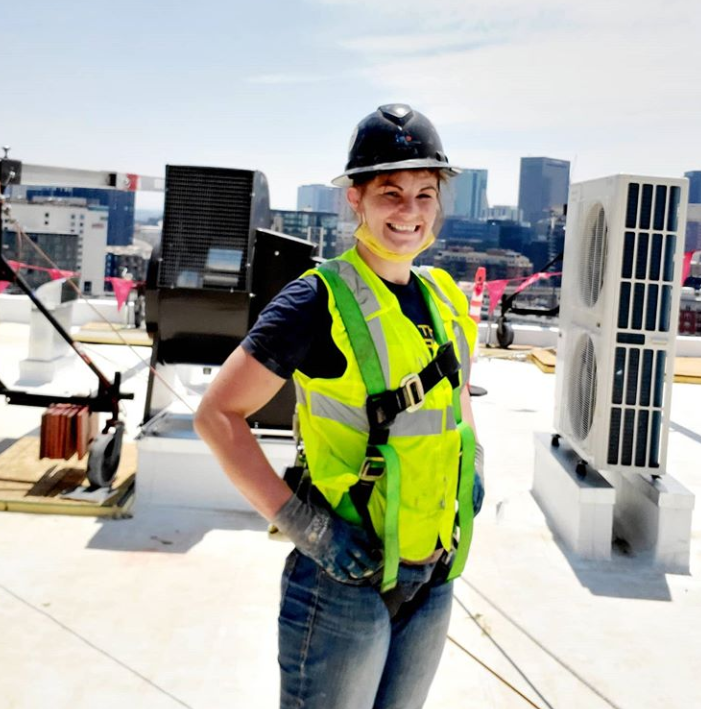 The work suits Elkin, who has a reputation for asking herself "How?" instead of saying "I can't." Her competitive MMA days may be behind her, but she still takes pride in the lengths the went through to make her dreams come true. "When I cut off my hair for Bellator, I was so proud of myself. I didn't really know how far I would go until that happened. It still makes me smile with pride when I tell that story," she said.
Make no mistake, though — this athlete is still as tough as ever. She's just taking a healthier, happier approach to competition. "I do think all that might is still inside of me. I still get so excited to plan competing, and I think that's just in me. I think I train better now not wiping myself out from gym to gym, trying to make the MMA standard. I'm as cool as a fan."
Elkin's healthier approach to her passion for combat sports also includes ditching the dramatic weight cuts and embracing her body and physique as a gift. Like many MMA fighters, Elkin says that she's struggled with her body image — a natural side effect of a decade's worth of losing and gaining large amounts of weight in a short period of time.
"Right now I am 5'11" and 186lbs with a large frame," she said. "My entire career, I tried to make the extreme cuts to make 145 just to have the opportunities to take a fight. Playing with my weight like that for 10 years always mentally made me feel 'too big' and absolutely self-conscious… a bit of body dysmorphia, I believe. As soon as I started to come back up after a camp (which was natural), I would almost get depressed, feel fat, all the woes.
"But I kinda somehow broke that imbalance of thought. I kinda embrace my bigness now. I actually think my body looks good as it is. Being a large person genetically is a gift. I use it to my advantage these days instead of trying to hide it."
As Elkin has grown, so has her son, who is remarkably already taller than she is at just fourteen years old. "Bronson has grown into such a fine young man, and I'm so proud," said Elkin. Though she tried to get Bronson into jiu-jitsu when he was younger, he didn't develop the love for it that his mother had, instead developing an interest in football. However, he still comes to "family night" at the gym and trains basics with his mom.
"My advice to parents is to plan, yes, but be willing to modify. Grow with [your kids]. Encourage change. Make them have overcomings young so they don't experience failure for the first time when they're too old. Laugh with them when it's time to laugh," said Elkin. Although her son may not have embraced the BJJ lifestyle as she did, she still says that his time in the gym with her has left a positive impact on him. "I used to feel sorta guilty always dragging him along to all my training. But now, I see he met all the good people I surround myself with. He watched me go for an extraordinary goal. He watched me at my highest points, and he saw my heart hurt when I failed."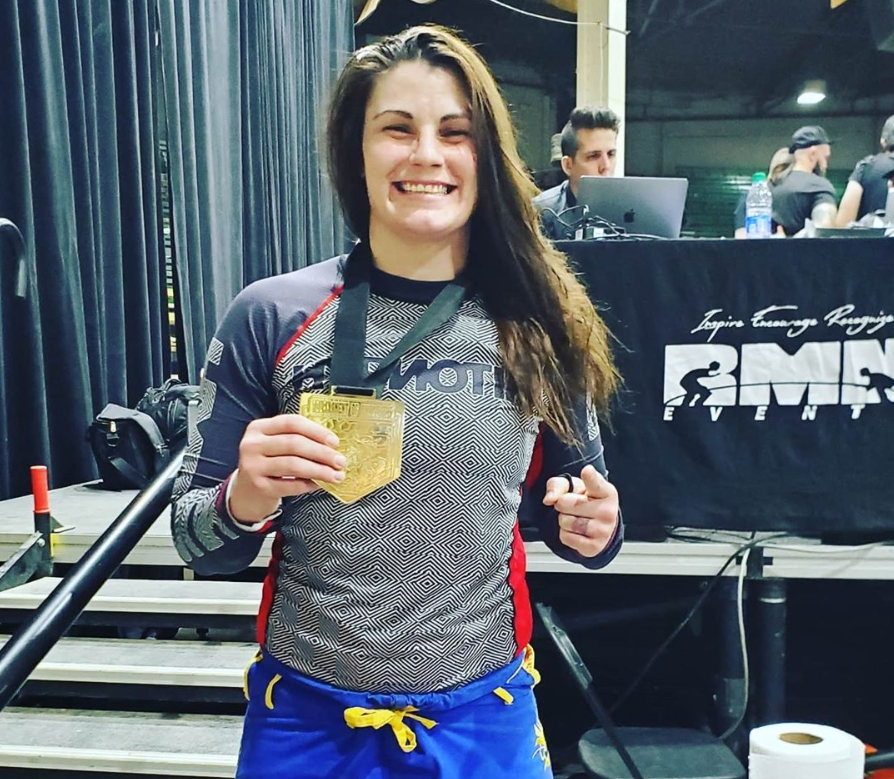 Now, having battled through literal fights, job changes, and both mental and physical challenges, Elkin is ready for whatever tonight's match may bring. "This match does mean a lot to me. It's the first time on the stage that I love to perform on after my retirement from MMA… Being able to come back to what I love, it's heartwarming. It's so meaningful. I just feel like myself again. I kinda got lost there for a bit. Being a goal-oriented person my whole life and then physically not being able to play the way I always have [put] me into a funk. I've been out of that for a minute now, but when Seth [Daniels] called for this match, I lit up. Every match always means something, but this match brought back that familiar feeling."
Regardless of what happens on that stage tonight, Elkin is happy to be back where she belongs. "I just am proud to have made it so far doing something I love… and I'm not done yet."
Fight 2 Win 145 takes place tonight in Dallas and can be streamed live on FloGrappling.